Best activity books for kids
Asking your child to complete his homework ideally sounds easy, isn't it? But in reality, it is a task in itself. Activities such as making a paper boat with colourful sheets or joining the dots, or solving simple puzzles makes learning enjoyable.
With changing times, the essence of childhood has shifted from outdoor games to playing video games on gadgets or watching rhymes on mobile phones rather than book reading. Activity books allow you a screen-free entertainment source for toddlers that keeps them occupied for hours!
Finding the perfect activity book that adds to your kid's growth, progress, and skill development and is not too hard to keep up with their age and not lose the track of interest requires a lot of effort. Keeping all the above points in mind, here are a few books that we've segregated:
No. 1 Paint by Sticker Kids
Under the Sea: It's a no chaos activity book that comes with 'paint stickers' placed on the number page in order 1-50, but the picture page has numbers all mixed up, so the kid has to look for the number and paste it there. It improves a child's number recognition and motor skills with just three simple steps of this 34-page book that includes 10 pictures in all.
No 2. My Super Big Activity Book for Kids
This book can also be called the big variety book because of its range of activities for kids of 3-8 years of age that tests their potential with a wide range of tasks focusing on their mental growth, increasing concentration and tasks as simple and similar to homework or class tests too. It has 128 pages of tracing colouring, matching missing numbers, alphabets, etc.
No.3 Wipe Clean: Giant Activity Workbook
This is a spiral book with 112 pages of variation in activities that can be re-used multiple times because it comes with a wipe dry pen, which is its USP. Your toddler can repeat and practice the same activities and learn the key skills thoroughly. It's an all-in-one book and you do not need to pay for different books.
No. 4 Summer Brain Quest
This book is based on an adventure map and following that map you get to complete quests and earn stickers as rewards which develop a child's interest to do more and more! It includes writing and learning activities too which kids nowadays won't find interesting reading but rather prefer Youtube as a source of learning, but there couldn't be another book other than this to grab your child's attention, I promise. The print length is 160 pages
No. 5 Origami for Kids
This is a huge book of 176 pages with 100 origami sheets to fold and 20 projects well explained in the book to create fun projects like dogs, cats, crabs, etc. It is interesting to know that light lines are printed for beginners with a step-by-step explanation. If that doesn't help well, a QR code is present on the first page of every project that when scanned with any device will be directed to a video tutorial that leaves no source of confusion.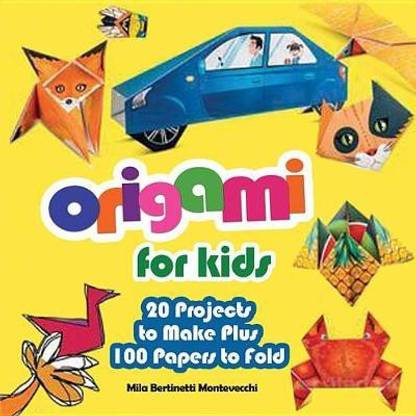 No.6 My First Big Activity Book for Kids
This is an extremely engaging book that includes games and activities such as matching activities, spot the difference that develops self-confidence, enhances motor skills and child's imagination, and improves logical skills. It's an easy book yet a very versatile one!
No. 7 How to Draw a Unicorn and Other Cute Animals
This book is for kids that are fond of unicorns and animal lovers because it has activities that allow you to experiment, draw and colour your version of 30 animals including foxes, tigers, pandas, and many more with simple shapes like circle, rectangles, ovals, etc. It's a 64-page well-explained book
No. 8 Puzzlooies! Space Cats to the Rescue
This is a themed puzzle that tells a story with a lot of puzzles, challenges, hidden messages to be solved and includes so many hilarious jokes till the end and even though it's an 80-page book, you won't feel like getting up once you've sat to decode it! It's that interesting.
No.9 STEM Starters for Kids Maths Activity Book
STEM(Science, Technology, Engineering, Maths) is an activity book for young children who want to learn something as basic as multiplication, addition or counting coins, and learning weights and measures most interestingly and engagingly! It's a complete package of 32 pages filled with exciting maths puzzles, facts, and so many learnings.
No. 10 My First Learn to Write Workbook
This book of 84 pages helps your toddlers to build writing and reading skills or learn to have a hold on pen grip. For kids of 3+ years of age, it is great to have an understanding of numbers, shapes, letters, etc and in this process of learning and writing, they also tend to improve their handwriting with practice.